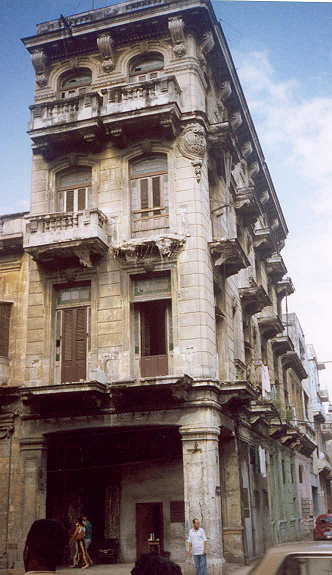 The Grandeur that was Havana
In early 2004 I spent three weeks in Cuba, primarily in Havana. During the time I was waiting for appointments and interviews (there is a lot of waiting in Cuba) I walked the streets of the city. It is an alive, vibrant city with a multitude of neighborhoods. However, I stayed mostly to the back streets, away from the tourist areas, where some reconstruction is taking place. After a few days an overwhelming impression of decay and deterioration began to emerge. Although some houses are in good repair, the majority are neglected either cosmetically or structurally. Even along the Malecon, some of the world's prime real estate, the buildings are frequently a disaster waiting to happen. I walked the Malecon frequently, and on the side across from the sea wall, there are blocks of buildings ready to fall down, propped up by wooden support beams. Sewage oozes out of the pavement. Wiring in some buildings resembles a tangle of spaghetti. Stairways to apartments are rotted away. Balconies fall off buildings and crash into the street below.
Havana can be, and hopefully will be, rebuilt at some future date. It is a magnificent city, among the greatest I have visited. Its people are among the friendliest in the world. The majesty that was Havana may one day be seen again.