My Friend Luis
by Arturo López Levy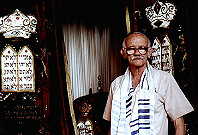 Mindy Shapiro photo
Excerpts from "Trading with the Enemy: A Yankee Travels through Castro's Cuba"
"So I committed myself to New Year's services at one synagogue in the evening and at the other the following morning.... I must admit I did laugh to myself a little when each, on the same day, implored me to come to their services. For one brief moment, I was the hottest Jew in Havana."
NEW - CUBAN JEWS CELEBRATE CENTER'S RENOVATION AND COMMUNITY'S REVIVAL
This article is reprinted with permission from
The American Jewish Joint Distribution Committee, Inc.

NEW - CUBAN JEWS SURVIVE YEARS IN THE REVOLUTIONARY DESERT
An article by Dan Freedman for Hearst Newspapers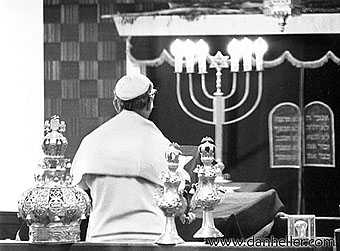 Dan Heller's coverage of orthodox services in Havana's Adath Israel
(Opens new browser window.)

Canadian Jewish Congress:
40 years of support to Cuban Jewry